Air Canada Component
As the Bylaw amendments that were accepted by the membership in the July 2018 Referendum are still in the process of being approved by the CUPE National President's Office, the current Bylaws, that were amended in December 2016, will be in effect for this election. In accordance with the Air Canada Component Bylaws, anyone […]
Posted: November 7, 2018, 6:26 pm
As the Bylaw amendments that were accepted by the membership in the July 2018 Referendum are still in the process of being approved by the CUPE National President's Office, the current Bylaws, that were amended in December 2016, will be in effect for this election. Here is a breakdown of the positions available at Local […]
Posted: November 7, 2018, 6:23 pm
Use this form to apply for benefits under the Air Canada Component's Wage Indemnity Plan. Send the completed Claimant's Statement by mail, fax or email (acclaims@manionwilkins.com). Do NOT use crew boxes or leave at the airport office. WIP Claim Form – October 2018 – English
Posted: October 31, 2018, 3:12 pm
CUPE National
The Canadian Union of Public Employees (CUPE) welcomes Canada's long-awaited first federal pay equity legislation. "This is a great achievement for the women's movement in Canada and the allies who fought for decades to right this historical wrong," said CUPE National President Mark Hancock. "There is room for improvement in this legislation, but we give credit to Minister Hajdu and look forward to working with her to make Bill C-86 even better."
CUPE applauds the government for making good on its promise to introduce proactive pay equity legislation, and is pleased to see Bill C-86 calls for unions to be involved in the development and maintenance of pay equity plans for workers in federal jurisdictions.
But in order to be truly effective for workers, the government should amend the bill before it becomes law.
First, the legislation needs to ensure that workers' rights to equality and fair compensation always take priority over the whims of employers. As it stands, the bill appears to give employers too much discretion.
Second, the government's timeline allows for a year for regulations to be written once the bill receives Royal Assent. Another three years are allotted for plans to be developed, and in some cases, another five years are allotted before payment is mandated. In many cases, women could be waiting until 2027 for a remedy.
"Canadian women have waited long enough for pay equity," said Hancock. "This is a fundamental question of justice for women in our country, and we all know justice delayed is justice denied."
CUPE had called for the creation of a standalone pay equity commission. Instead, a single commissioner will be appointed to the Human Rights Commission, which already faces a significant backlog, to oversee pay equity issues.
"Simply put, a lack of resources will lead to a lack of enforcement," said CUPE National Secretary-Treasurer Charles Fleury. "The government must give this issue the attention and resources it requires to remedy this historical injustice."
Posted: October 30, 2018, 7:30 pm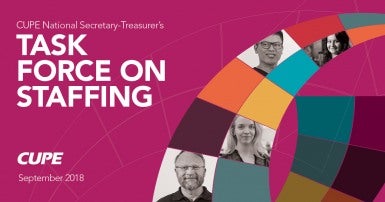 As outlined in the National Secretary-Treasurer's Report adopted at the 2017 National Convention, a project was undertaken to: i) update and review the process used to determine staffing allocations; and, ii) identify servicing challenges facing CUPE National to ensure that locals, chartered bodies and staff have the best available support and resources.
The National Secretary-Treasurer's Task Force on Staffing comprised of members of the National Executive Board and senior staff took on this challenge. The Task Force began meeting in the spring of 2018 to investigate the new realities facing our locals and chartered bodies and to look at how CUPE can address new bargaining structures and respond to the needs of our locals and their leaders. It also compared current and historical data on staffing allocations and looked at the qualitative aspects of staffing, including evolving roles and expectations.
Posted: October 29, 2018, 4:00 pm
12 things you can do to fight violence in the workplace
1. Raise the profile of the issue
Post CUPE's "It's not part of the job" poster on union notice boards. We also have stickers and buttons you can order.
---
2. Empower your members
Make sure they know their rights and understand the importance of reporting incidents – no matter how small. Remind them their union will be there for them.
---
3. Put it on the agenda
The employer has a responsibility to ensure a workplace free of violence. It's our job to make sure they fulfill that obligation. Put the issue as a standing item on the agenda of health and safety committee meetings. If you don't have a committee, establish one. If that isn't enough, put it on the agenda for labour-management meetings, too.
---
4. Empower your health and safety committee
CUPE representatives on your joint health & safety committees have a big role to play in identifying workplace hazards that increase the risk of violence. Make sure they have the tools they need.
---
5. Provide training to your activists
Your health and safety committee can't tackle this on their own. Make sure your local executive, stewards and other activists have the skills they need to help address concerns in the workplace.
---
6. Survey your members
The worst incidents of workplace violence are easy to spot, but your members can also be subject to incidents of smaller aggressions, harassment and violence that can go unreported. CUPE has tools to help you find out where and how your members are experiencing violence at work.
---
7. Conduct a workplace inspection
Noticed a spike of violent incidents? Your committee should conduct an inspection. We have a tool for that.
---
8. Review the employer's policies
Employers develop policies to address a lot of workplace matters. If yours has a policy on violence prevention, make sure it works for your members. CUPE has a guide that will help.
---
9. Put it on the bargaining table
Review your collective agreement and make sure you have the best possible language to address workplace harassment, violence and related issues like staffing levels and working alone.
---
10. Partner with your employer
Once your employer understands the seriousness of the issue, you might be able to work together. Consider partnering on training, communications to employees, and communications to the public (for example, using prominent signage) that lets people know that aggressive and violent behaviour will not be tolerated.
---
11. Lead by example
Conduct union business, including meetings, with respect and solidarity. CUPE's Equality Statement and Code of Conduct can help.
---
12. Campaign with community allies
Pressure governments to increase funding and restore public services. Staff shortages increase the risk of workplace violence.
Posted: October 25, 2018, 4:00 pm